Richards Bay Minerals (RBM) is a subsidiary of Rio Tinto in South Africa. There are three RBM shareholders, with Rio Tinto being the largest shareholder with 74 per cent.
Richards Bay Minerals contributes 50 per cent of KwaZulu-Natal's mining sector by value of output. This represents 3.3 per cent of the national mining sector by value of output.
Titania slag, which comes from ilmenite, contains 85 per cent titanium dioxide and is our primary product, while rutile contains 94 per cent titanium dioxide.
The largest application of titanium dioxide is as a white pigment representing between 95 and 98 per cent of worldwide TiO2 consumption. The remaining uses are as a flux for electric welding rods and in certain metallurgical and electronic applications.
RBM is highly competitive in world markets thanks to Rio Tinto's proprietary smelting technology and international marketing links through Rio Tinto Iron and Titanium. We have distributors in most economically active countries in the world.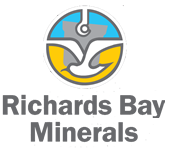 Related to Richards Bay Minerals