The roots of Pioneer Fishing go back to 1947, from when we grew from being a small liver oil producer to a major South African fishing group that produces a wide range of fish products and employs more than 900 permanent and seasonal employees.
Pioneer Fishing is the holding company of a group focused on the long-term development, harvesting, processing and marketing of sustainable marine resources, in a manner that maximises the long-term interests of the shareholders and other stakeholders. Our strength lies in our innovative culture, human resources, managerial skills and expertise, sound business practices, financial resources, vast infrastructure, product range and active involvement in the fishing industry for more than 50 years.

Related to Pioneer Fishing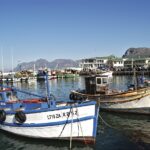 Hundreds of state properties along South Africa's coast are to become sites of new business opportunities and catalysts for economic growth and job creation.