Pele Energy Group (PEG) is a wholly black-owned compay, comprising three subsidiaries. PEG was founded in 2009 by five young South Africans with the dream to contribute to the structural reform of the African continent.
An objective they contribute to is making freedom tangible, through their operating subsidiaries: Pele Green Energy, Knowledge Pele and Pele Natural Energy.
Website: http://www.peleenergygroup.com/


Related to Pele Energy Group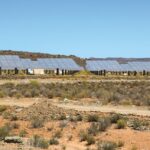 The Managing Director of Pele Green Energy, Gqi Raoleka, expands on his company's goal to work with rural communities to become self-sufficient.