Mainstream South Africa is a leading developer of wind and solar PV projects employing more than 45 people in its Cape Town and Johannesburg offices.
Since the South African Renewable Energy Independent Power Producer Procurement Programme (REIPPPP) was launched in August 2011, Mainstream has been awarded 848 megawatts (MW) of wind and solar projects–more than any other project developer.
Mainstream designs, develops, builds and operates the wind and solar PV projects and its strategy is to work as a consortium to submit bids. It has worked in partnership with organisations such as Absa Capital, Globeleq, Thebe Investment Company and Siemens Energy South Africa.
Website: http://mainstreamrp.com/


Related to Mainstream Renewable Power South Africa
The wind farms have announced the commencement of their 20-year commercial operations, a milestone they have achieved on schedule, on budget and without a single lost-time incident.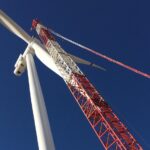 Khobab Wind Farm has announced the completion of all 61 wind turbine installations, more than two weeks ahead of schedule, on 8 September 2017.