KAEFER holds a worldwide leading position as provider for plant integrity services and solutions, specialising in Insulation, Access, Surface Protection, Passive Fire Protection, as well as Interior Outfitting. With an annual turnover of around €1.5 billion, KAEFER's business is carried out in its Industry, Marine & Offshore and Construction divisions.
Headquartered in Bremen, in the north of Germany, the company has operations in over 40 countries, a current workforce of 28,000 and is led by Peter Edelmann (CEO).

Related to KAEFER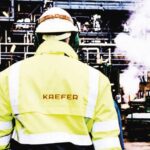 While we are a global player, we adopt a very strong local focus and ensure that we make an indelible footprint in all the locations where we are active.