Jonathan Ball Publishers was started in 1976 and is the leading publisher and distributor of English general books in South Africa. We specialise in South African history, politics and current affairs and also publish some fiction. We also act as agents for British and American publishers, marketing and distributing books on their behalf in southern Africa.
Among the many and varied titles distributed in South Africa by us are the Harry Potter series, probably the biggest success story ever in the field of children's literature. We are also the sole distributors of J.R.R. Tolkien's The Lord of the Rings and The Hobbit, and C.S. Lewis' popular stories in The Chronicles of Narnia series.
Jonathan Ball Publishers have won the Sunday Times Alan Paton Award on eight occasions with The Dead will Arise by Jeff Peires, The Scramble for Africaby Thomas Pakenham, Mandela by Anthony Sampson, The Seed is Mine by Charles van Onselen, Mouthful of Glass by Henk van Woerden and Thabo Mbeki: The Dream Deferred by Mark Gevisser. Jonny Steinberg is the only author to have won the prize twice for Midlands in 2003 and for The Number in 2005.
Website: http://www.jonathanball.co.za/


Related to Jonathan Ball Publishers
Book review: Running with Sherman. The Donkey Who Survived Against All Odds and Raced Like a Champion. By Christopher McDougall. Profile Books, 339 pages.
With the aid of Chris's menagerie on his farm in rural Pennsylvania, his wife Mika and their friends and neighbours including the local Amish population, Sherman begins to build trust in Chris. To give him a purpose, they start to run together.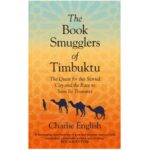 A fascinating account of the destruction of, search for and discovery, protection and restoration of early written documents about Africa.