The Fibre Processing and Manufacturing (FP&M) SETA was established on 1 April 2011, to cluster sectors in order to strengthen value-chain linkages between related industries.
The FP&M SETA consist of 13 sub-sectors namely the clothing, footwear, forestry, furniture, general goods, leather, packaging, printing, print media, publishing, pulp and paper, textiles and wood products sectors. Although classified individually, the sub-sectors are closely integrated. Together they create tremendous value in the lives of consumers, by converting lumber, pulp, natural or synthetic fibres, animal skins/hides into finished products such as furniture, clothing, shoes, protective equipment, paper and paper board, printing (books, magazines, etc), industrial fabrics and extending into high-tech applications in many different industries (automotive, health and building construction to name a few).
If you think about it, you can't go through a day without using one or more of the products manufactured in the fibre processing and manufacturing sector.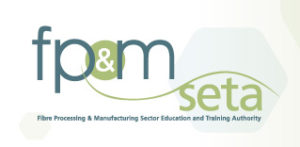 Related to Fibre Processing & Manufacturing SETA