Established in December 2008, the primary purpose of the DCC is to develop the competitiveness of the local chemicals manufacturing industry. Following the successful completion of a pilot project the DCC became operational as of March 2009 with the receipt of its first funding from the eThekwini Municipality and founding member firms. Since its establishment, the operational foundation of DCC has proved to be both robust and effective and therefore still operates under the original operational model.
Funding for the DCC is overseen by the Economic Development and Investment Promotion Unit (EDIPU) of the eThekwini Municipality.

Related to Durban Chemicals Cluster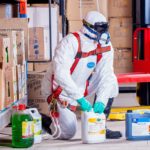 Durban to Host African Chemicals Imbizo 2018, taking place 24 to 25 October at the Durban ICC.