The Automotive Industry Development Centre (AIDC) is a subsidiary of the Gauteng Growth and Development Agency (GGDA), which is an agency of the Gauteng Department of Economic Development.
The AIDC is a world-class organisation specialising in Skills Development and Training, Enterprise Development, Incubation Programmes, Management of Incentive Programmes and Facility Management.
The AIDC accelerates economic growth within the automotive industry through strategic partnerships with government, non-governmental agencies, and industry leaders.
Website: www.aidc.co.za


Related to Automotive Industry Development Centre (AIDC)
The AIDC highly recommend that all automotive organisations, government departments from all spheres of government, its agencies and all other stakeholders seeks participation.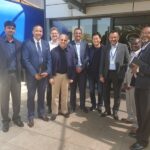 The Automotive Industry Development Centre (AIDC) and Nissan South Africa, today hosted a government delegation from Egypt at the Automotive Supplier Park in Rosslyn. The delegation is on a fact-finding mission into the South African automotive sector.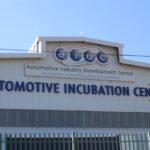 Motherson & BACS (an incubatee company at Ford Incubation Centre) recently obtained their Ford Q1 status, making it the third company on site that has achieved this.