De Beers Group, the Free State Education Department and the Kagiso Shanduka Trust are partners in a multi-million-rand development.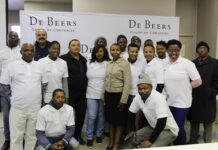 Whether it involves transporting workers to and from work, catering or maintenance, there is a great deal of work to be done that goes beyond the core business of diamond mining.
Head of De Beers Venetia Underground Project, Christoff Kühn, reports on progress in one of Limpopo's biggest projects.