Ensuring your business is ready for any challenge and making the most of emerging opportunities by reacting swiftly to market changes is the hallmark of a Ready Business. At Vodacom Business, we focus on helping our enterprise customers work smarter and more efficiently, while continuously finding new and innovative ways to enable, empower and support their endeavours.
With that in mind, Vodacom has recently introduced Business Connect, a business-grade internet service packaged with a versatile router, over the most feasible of our multiple access mediums. The service is packaged with a free wireless Interim service that converts to your free Backup service once the primary access medium is installed.
Business Connect includes a standard SLA with guaranteed availability and uptime. The free Interim and Backup solution is capped at 5GB, but can be upgraded or topped up according to standard Broadband Connect Wireless Lite top-up packages.
Benefits
No AUP/FUP limits, no throttling regardless of bandwidth usage
Managed service offering a standard SLA
Business-grade Huawei AR129 router fully installed
Accommodates up to 50 concurrent Wi-Fi sessions
Upgrade to a higher specification AR169 router at an additional charge
FREE Interim and Backup, capped at 5GB
One Static IP address provisioned (five optional)
If your business operates in the Western Cape, contact Vodacom Business today to make use of this exclusive offer (valid until 30 June 2018, exclusively to the Western Cape):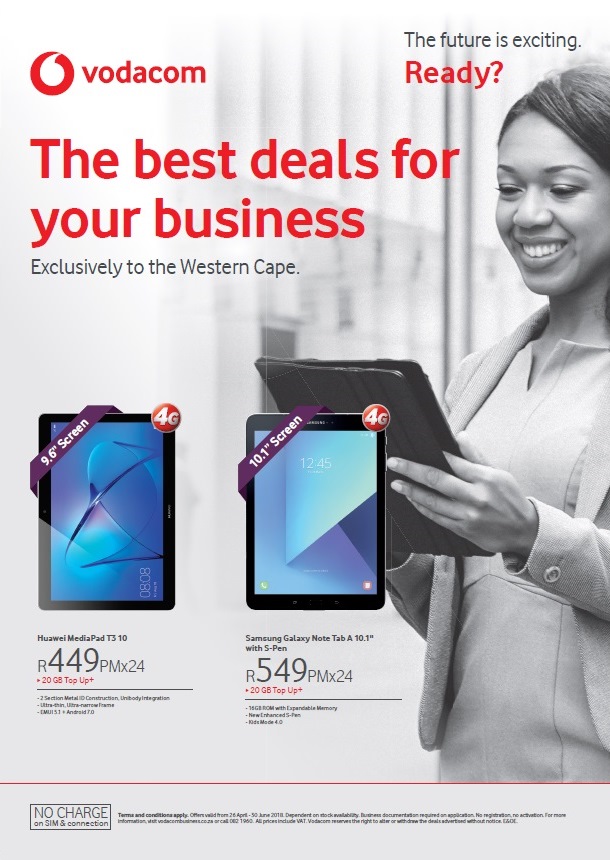 For more information about Vodacom solutions for your business, visit www.vodacombusiness.co.za