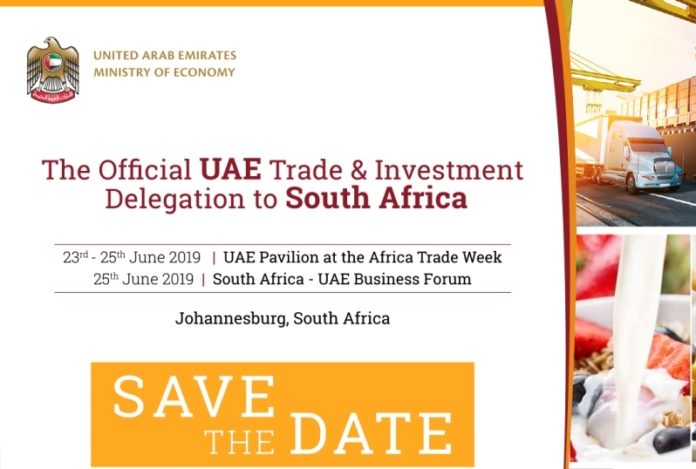 The UAE Official Trade & Investment Delegation to South Africa is an official business delegation designed to provide UAE-based companies with the knowledge and contacts necessary to do business in South Africa through exhibition and networking events.
Led by the Trade Promotion Department of the UAE Ministry of Economy, the official UAE mission to South Africa will consist of high-ranking business and government delegates from various sectors from the best the UAE has to offer in terms of products, services, investments and projects.
The UAE Delegation comprises:
23 June-25 June: Exhibiting at the UAE Pavilion at the Africa Trade Week
25 June: South Africa – UAE Business Forum
Joining the Business Forum will offer South African companies a perfect networking opportunity with government officials from UAE.
UAE Pavilion at the Africa Trade Week
What will be showcased and who will participate?
This multi-sectoral networking event will represent a wide range of UAE-based companies selling products, services and technologies across all sectors and industries including the following:
Ports & Shipping
Hotels & Tourism
Agriculture & Agribusiness
Banking
Telecom
Transport
Aluminum
Plastics & Metals
Training & Education
Healthcare
Auto, Spare Parts
Foodstuff
Electronics
Sponsorship
Sponsoring the Official UAE Business Forum will give you access to exclusive networking opportunities while strategically placing your company in front of the key decision-makers.
A limited amount of sponsorship packages are available for companies wanting greater presence and exposure, ranging from Main Sponsor and Support Sponsors to Reception and Networking Break sponsors.
Please contact maryam@ejtemaat.com for more information and detailed partnership packages.