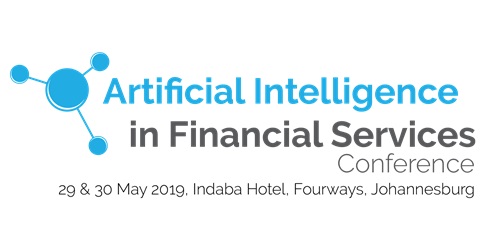 Impact of artificial intelligence on financial services
The fintech revolution is still in its infancy, but alongside AI, it has already had a substantial impact on the way traditional banks do business. This presents digital entrepreneurs and investors with myriad opportunities for improvement. The Artificial Intelligence in Financial Services Conference will feature a programme with excellent topics specifically aimed at the financial industry, top class speakers and great networking opportunities.
Artificial Intelligence in Financial Services Conference 2019 will be taking place at Indaba Hotel, Fourways, Johannesburg.

The two days conference will be addressed by more than 15 industry experts, tackling the following:
Innovation and technology
Artificial intelligence and the financial environment
Improving customer experience through artificial intelligence
Regulatory hurdles and compliance
Data integration and artificial intelligence
Professionals dealing with the following will highly benefit from attending this conference:
artificial intelligence * automation * technology * IT * digital * innovation * transformation * product development * strategy * data analytics * research * software development * infrastructure * market analysis * payments * credit * cyber security * fraud * regulation * compliance * cards * mobile banking * digital marketing * machine learning
Benefits of attending:
Connect and network with peers in the industry and build valuable contacts
Hear about developments to analytics and data management that are being affected by Artificial Intelligence
Gain insight into leading and the future trajectory of the industry with the insurgence of artificial intelligence in the financial services space
Understand the latest in industry developments and innovations
Bring back valuable knowledge to enrich your organisations daily operations
Less than 1 week left to register and secure your seat! 
For more information, or to register to attend this event, contact Jason Joseph, Project Manager & Marketing and Coordination Manager, on 011-803-1553 or jason@tci-sa.co.za
Registration for this event: R9 200 + VAT per delegate
Registration 3 or more – 10% discount: R8 280 + VAT per delegate
Group Registration 5 or more – 15% discount: R7 820 +VAT per delegate

Trade Conferences International organises the most up-to date conferences, with accompanying exhibitions, focusing on specific issues within the financial, mobile, IT and online industries.