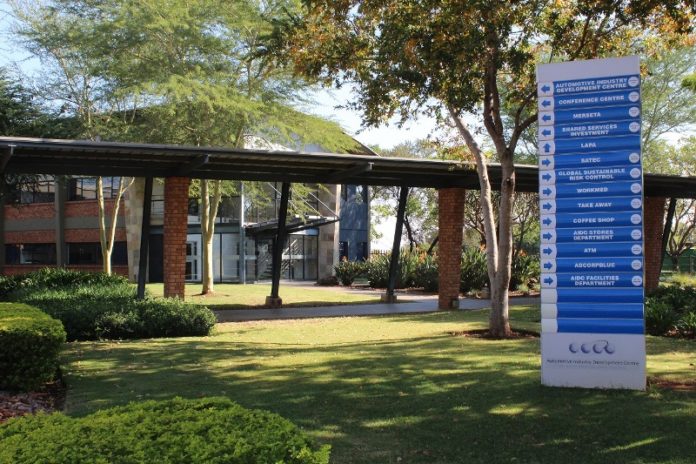 The Automotive Industry Development Centre (AIDC) is a leading implementation agency and support centre to increase the local automotive industry's global competitiveness and to promote Gauteng as the automotive industry investment destination of choice.

Automotive Supplier Park (ASP)
The AIDC manages the Automotive Supplier Park (ASP), an automotive hub based in Rosslyn that caters for various automotive component manufacturers, suppliers and service providers to OEMs including BMW, Nissan, Ford, Iveco and Tata.

Located within the Gauteng Automotive Cluster, the ASP is at the doorstep of South Africa's largest automotive market and in close proximity of major OEMs, a skilled labour force and good road and rail links.
Gauteng, although landlocked, is close to the northern borders of South Africa, making it an ideal gateway to sub-Saharan Africa. Gauteng offers an excellent manufacturing base, with access to various logistics corridors and links to established distribution networks. The region has well-developed road, rail and air infrastructure for the efficient export and import of goods.
In addition, the ASP benefits from shared services and facilities, a world-class logistics centre and boasts sophisticated operating technologies, a pleasant, productive and dynamic work environment and strong security.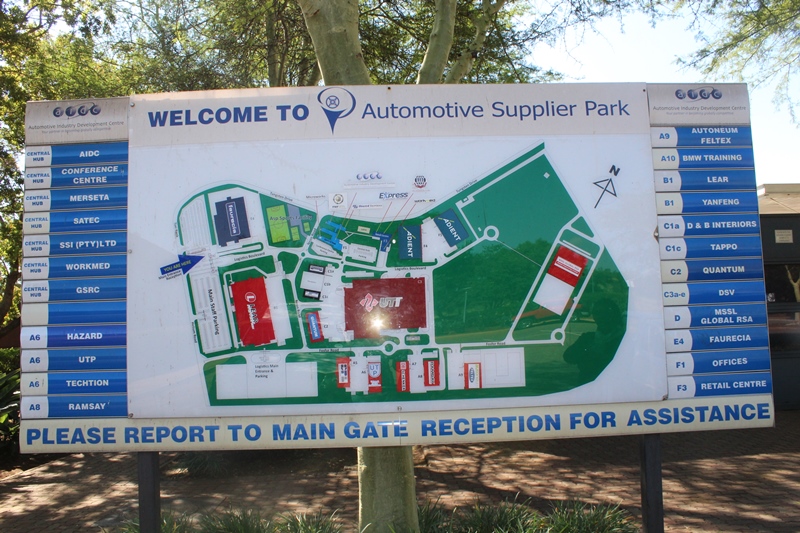 Value proposition
Modelled on leading supplier parks in Europe, Japan and America, the ASP concentrates automotive component manufacturers, suppliers and service providers in one location to achieve synergies and cost benefits through:
Strategic location, in close proximity to vehicle manufacturers
The ASP is close to all major OEM plants including BMW (3.3 km), Nissan/Renault (1.3 km), TATA (0.5 km) and Ford/Mazda (35 km).
Shared infrastructure, facilities and services
Tenants enjoy the benefit of shared infrastructure and value-added services including facilities management, ICT services, centralised security, logistic services, conference facilities, canteen and healthcare facilities. Tenants are offered a wide range of services including affordable routing IP telephony service, broadband internet and email, server access, back-up and data recovery services, ICT support, access control and CCTV monitoring.
Central logistics warehouse
Tenants benefit from warehousing and distribution services rendered by independent service providers. A centrally located container depot which handles in and outbound container traffic is a significant benefit to tenants.
Logistics services optimised for automotive supply chain process
The ASP addresses logistics costs by bringing suppliers closer and have thus reduced logistics costs and the general cost of doing business.
World-class production environment
Factories at the ASP are developed to tenant requirements and legislative approvals. Building designs and finishes are governed by the ASP's architectural guidelines and meet international automotive standards.
Local content
Incubation facilities have been established to improve access to SMME and lower tier suppliers.
Be part of the automotive growth trajectory
The South African automotive industry contributes 6.9% to GDP (4.4% manufacturing & 2.5% retail), accounts for 30.1% of manufacturing output and 13.9% of total exports, employs 110 000 people in vehicle and component production and attracts an annual investment of R12.2-billion.
In recognition of the importance of the automotive industry in South Africa, the Department of Trade and Industry (the dti) commissioned the development of a South African Automotive Masterplan (SAAM) in 2016. Following an intensive stakeholder engagement process, the dti developed a SAAM vision, and clear objectives for the automotive industry through to 2035.
A brief summary of the SAAM's 2035 vision:
Achieve 1% of global vehicle production by 2035 (increase from current 600 000 units to almost 1.4 million units a year)
Increase local content from current 39% to 60%
Double employment in the value chain from current levels to about 240 000
Achieve at least level 4 BEE status from 2021
Support to be based on value addition rather than production sales value
(Source: Department of Trade and Industry. Read: Minister Rob Davies' media statement on the South African Automotive Masterplan and Extension of Automotive Production and Development Programme.)
At present, the Automotive Industry Development Centre (AIDC) has four sites with 140 000 m² of combined factory floor area. The Facilities Planning Department has future development plans to expand the ASP by a further 30 000 m² of factory space, and develop 34 hectares of land in-and-around Rosslyn.
The AIDC offers affordable turnkey solutions for all tenants within the Automotive Supplier Park.
The Facilities Planning Department of the AIDC possesses the skills and know-how to assist micro and macro businesses with infrastructure development of their factories. This includes the design, legislative approvals, and the planning for construction of the factories.
Contact the AIDC for more information about space availability or future expansion plans for the Automotive Supplier Park.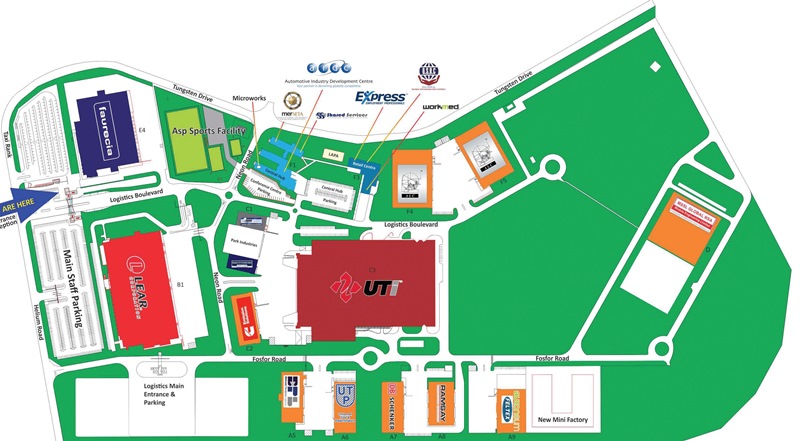 The dti Investment Scheme – APDP Summary and Guidelines
The Automotive Production and Development Programme (APDP) replaced the Motor Industry Development Programme (MIDP) on 01 January 2013.
The APDP consists of four (4) pillars that will drive the programme:
Import Duty
Vehicle Assembly Allowance (VAA)
Production Incentive (PI)
Automotive Investment Scheme (AIS)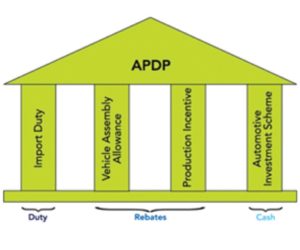 Tariffs:
Import duties on vehicles and components will be frozen at 2012 levels (25% on light vehicles and 20% on components) through to 2020. A preferential agreement will result in imported vehicles from the EU paying only 18% duty.
Vehicle Assembly Allowance (VAA):
This support is in the form of duty-free import credits issued to vehicle assemblers based on 20% of the ex-factory vehicle price in 2013, reducing by 1% in 2014 and in 2015 to 18% of the value of light motor vehicles produced domestically.
The equivalent value of this to the vehicle assemblers will be the allowance multiplied by the duty rate, so 4% in 2013 reducing to 3.6% in 2015. From 2013 this support starts at 55% reducing by 1% annually to 50% of value added, and is also in the form of duty-free import credits.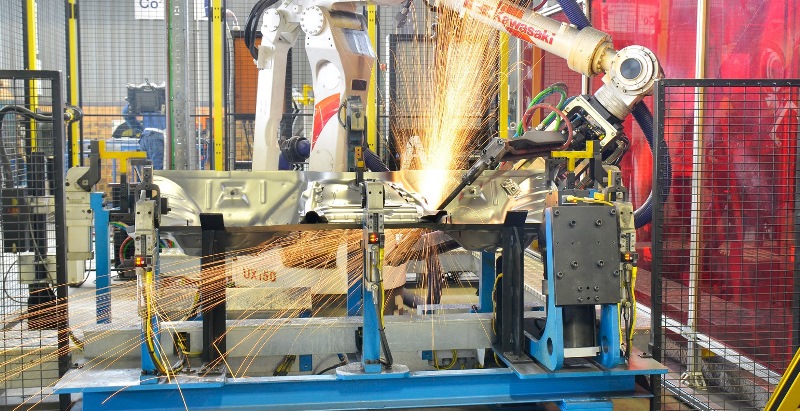 Production Incentive (PI):
Certain products, identified as "vulnerable products", will earn a PI (Production Incentive) of 80% in 2013 and 2014, reducing thereafter by 5% annually to 50% in 2020.
Value added is defined as the manufacturer's selling price less the value of non-qualifying material and components. The incentive will be earned through the supply chain and will flow through to the end producer, which will be the vehicle assembler or the component manufacturer in the case of component exports and aftermarket sales.
There are certain eligibility requirements to ensure that the beneficiaries are companies producing substantial components for vehicle assembly, and to exclude accessories.
While generally materials are excluded from value added, certain materials, which have been locally beneficiated to suit automotive specifications, will have a standard 25% of their value included in the value addition, or 40% (reducing by 5% annually from January 2015 to 25% in 2017) where they are used to produce vulnerable products.
The equivalent value of the PI will be the incentive multiplied by the component duty rate of 20%, so 11% of normal value added in 2013, reducing to 10% by 2018.
Automotive Investment Scheme (AIS):
The Automotive Investment Scheme (AIS) is an incentive designed to grow and develop the automotive sector through investment in productive assets to be used in the manufacture of new and/ or replacement models and components that will increase plant production volumes, sustain employment and or strengthen the automotive value chain.
It is a cash grant amounting to between 20% and 30% of qualifying capital investment, payable over three years.
The percentage depends on the level of achievement of economic benefit requirements including support for development of the local vehicle related tooling industry, R&D related to the manufacturing project, employment creation, introduction of new components,
substantial increase in local value add and substantial increase in production volume  (OEMs) or turnover (component manufacturers).
Contact the AIDC to discuss incentives relevant to your business.
For more information about the AIDC service offerings to tenants of the Automotive Supplier Park, you may also download the ASP brochure (PDF).