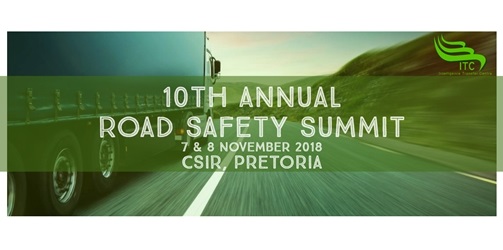 The 2-day conference aims to encourage dialogue amongst departments on promoting and implementing measures for safer roads. The objective is to also involve all 9 provinces, ensuring collaboration between provinces to ensure one voice towards safer roads.
Significant issues that will be spotlighted include:
An international presentation on promoting road safety education and enhancing learner routes,
Assessing the UN decade of action for road safety 2011-2020 and South Africa's progress,
Looking at the role government leadership plays in promoting road safety,
Traffic Monitoring and management through intelligent traffic surveillance,
Identifying ways to increase visible traffic policing and adequate resources,
Reintroduction of the evidentiary Breath Alcohol Testing (EBAT),
The role of the SAPS,
Traffic Police and/or Metro Police after a road accident,
Evaluating Public transportation and its contribution on road accident statistics,
Identifying ways to increase visible traffic policing and adequate resources,
Refocusing road engineering, infrastructure development and road safety strategy towards implementation of a safe systems approach.
The Department of Transport will be giving an opening address.

In addition, there will be an interactive plenary session on current implementation challenges and solutions, which will be facilitated by the Department of Transport.
There will be an informative workshop which will look at crash testing investigations, facilitated by Philip Purnell, HOD of Public Affairs from the Automobile Associations of South Africa.
Confirmed speakers include National Department of Transport, RTMC, Gauteng Department of Community Safety, Gauteng Department of Roads and Transport, Eastern Cape Department of Transport, Ekurhuleni Metro Police Department, City of Polokwane, and international perspective, Road Safety Great Britain, United Kingdom.

Intelligence Transfer Centre (ITC) is a 100% black owned B-BBEE level 1 company, and is accredited with the MICT SETA.  It started its operations in 2007 and currently executes over 64 conferences and workshops annually.  Headquartered in Johannesburg, the company also has offices in Windhoek (Namibia) and Kwa-Zulu Natal.
The company not only services the conference and training market in South Africa and Namibia but also has successfully skilled personnel from Botswana, Ghana, Zambia, South Sudan, Swaziland, Zimbabwe, Sierra Leone, Kenya, Ethiopia, Malawi, Uganda, Lesotho, Mozambique, Tanzania, Angola, among others.
Today, through our conferences and workshops, ITC continues to provide thousands of professionals with the necessary skills and knowledge to compete in a complex working environment. The company prides itself on sharing international best practice and each conference connects delegates with international leaders within their respective fields.