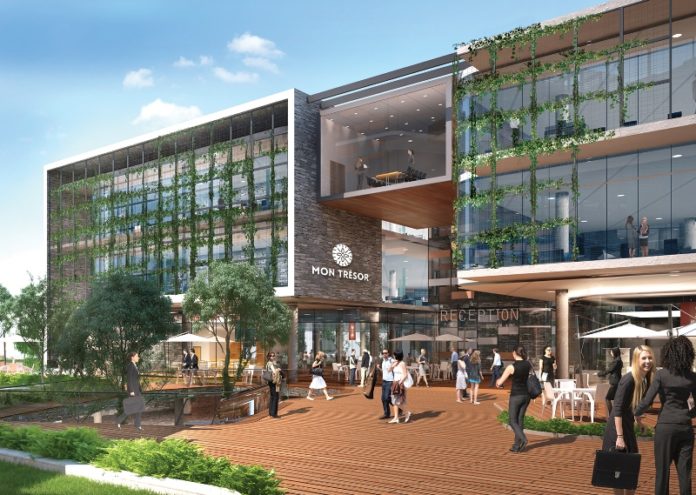 Turning work into a fulfilling area of life
Doing business and working in Mon Trésor does not only mean enjoying a highly professional environment focusing on operational excellence; it brings with it that connectedness with the other poles of one's life that is essential to make work a fulfilling area of life.
In line with the Greater Mon Trésor Master Plan and consistent with the new urbanism concept of Live-Work-Play, one of the coastal town's strategic neighbourhoods is an employment-generating 55-hectare business compendium with state-of-the-art infrastructure, the Business Gateway Mon Trésor Mauritius.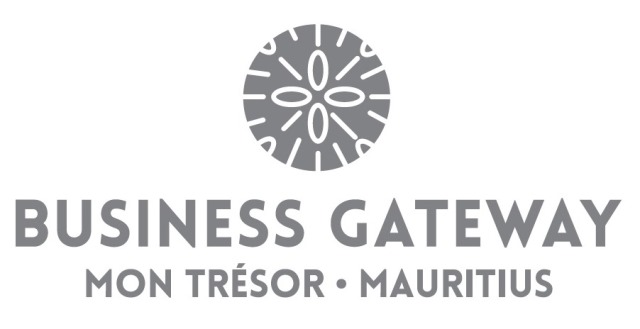 The Business Gateway Mon Trésor Mauritius includes a Business Park, a Commercial Park, including a world-class 24 hectares Logistics & Freeport Zone for efficient and cost-efficient supply chain strategies – turning Mon Trésor into the thriving business destination it is set to be for local and international companies.
Located to the east of the town, with direct access to a highway connector, Mon Trésor Business Gateway remains close to and connected with the urban development. Although accessible by motorized transportation, its parallel location to Mon Trésor town centre and residential precinct keeps it within walking or cycling distance from the town, offering the dream-opportunity of enjoying a workplace that is so conveniently close to the place of living.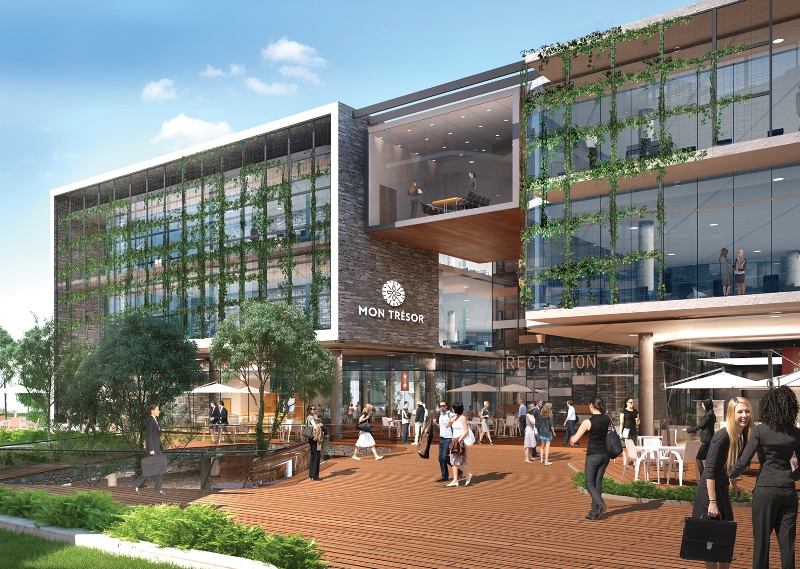 Airport-related business
Airport-related business and transits are the seminal elements of Mon Trésor business-oriented compendium as it lies at the doorstep of SSR International Airport, the airport's cargo logistics and Freeport zones, and close to the business-oriented Holiday Inn hotel.
The Business Gateway Mon Trésor Mauritius will offer A-Grade infrastructure to connect businesses, firms and their respective professionals efficiently to international trade and partners. Phase 1 construction is already well under way and offices will be ready by June 2018. In coherence with the aesthetic values driving Mon Trésor overall real estate development, an underground parking basement will be provided beneath the buildings liberating space at ground level for a piazza that will link all buildings.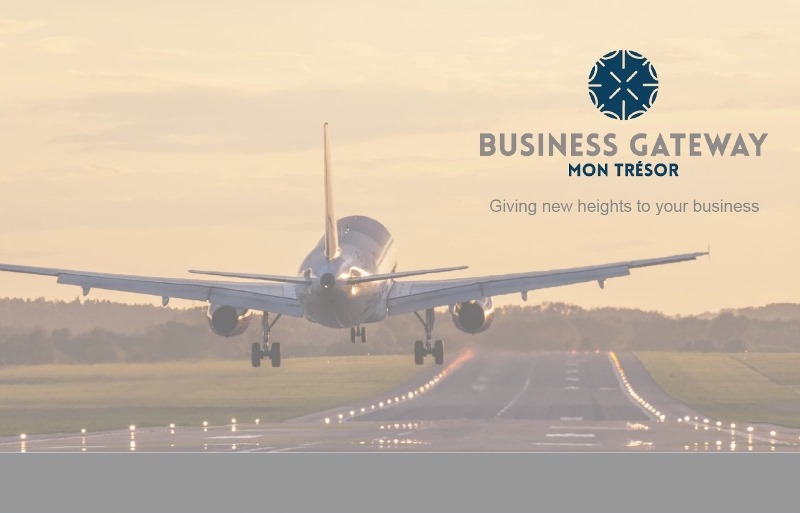 The ideal location
The Business Gateway Mon Trésor Mauritius is the ideal location for local and international companies who wish to enhance or harness business opportunities in the manufacturing and trade of light, high-value and time-sensitive products.
Its closeness to the airport provides convenience for collecting, storage, break-bulk, packing, processing and forwarding of goods.
Reasons why you should be doing business from Business Gateway Mon Trésor in Mauritius
High visibility frontage on new airport road;
Secure Office Park with efficient infrastructure;
Interconnected business community;
Tax incentives and benefits;
Possibility for foreigners of acquiring commercial and residential property;
Access to amenities such as Sport and Beach Club.
Contact the developers
For more information, contact:
Mon Trésor Office Park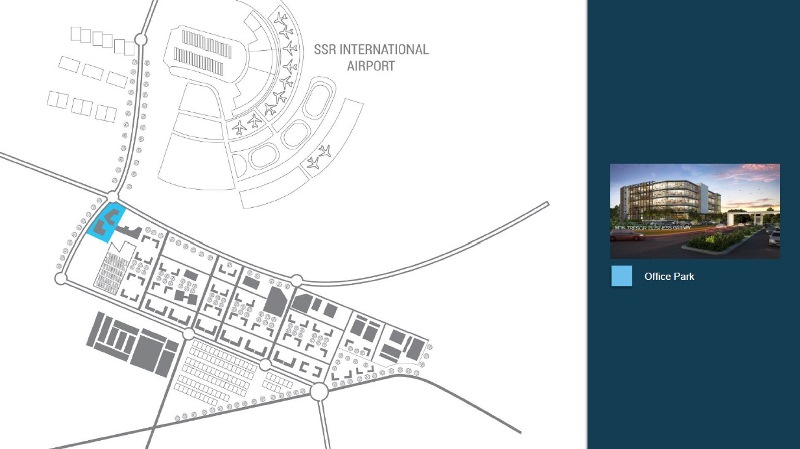 Mon Trésor Commercial Park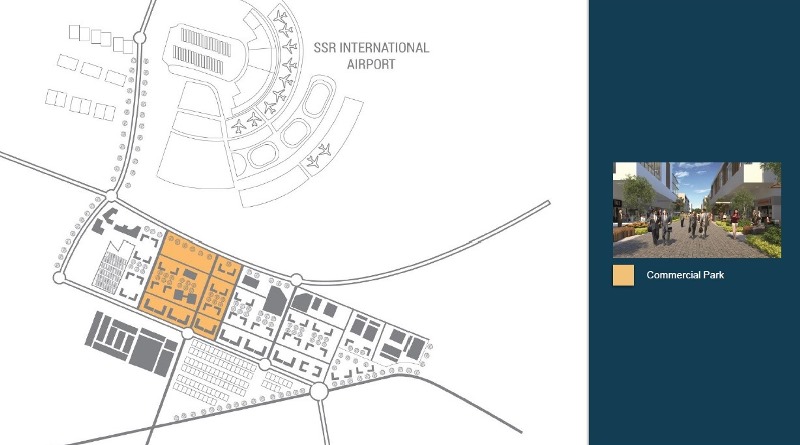 Mon Trésor Freeport Zone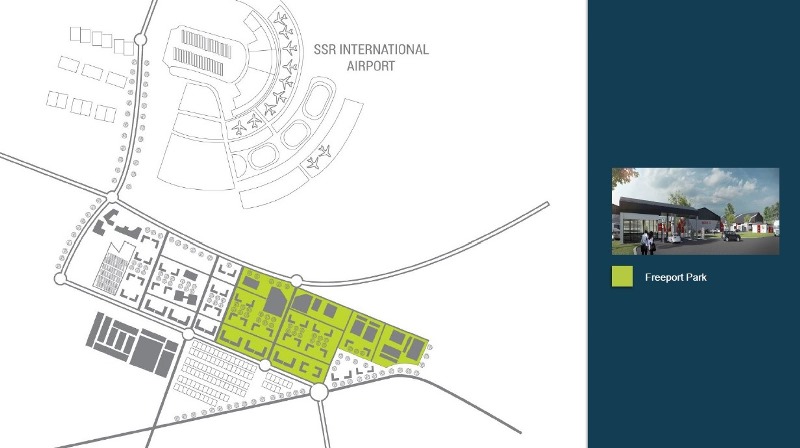 Learn more about the Smart City Scheme and available incentives for developing and investing in the Mon Trésor Smart City project in Mauritius.
Amenities & unique features of Mon Trésor
* Images and info included on this page are non-contractual