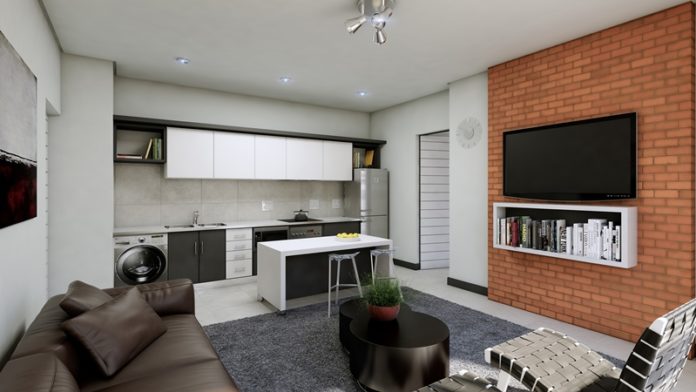 Launch of Menlo Park's accessibly priced new lifestyle apartments, Nexus 83
Hearth Developments have launched Phase 2 of their Menlo Park development in Pretoria East,Nexus 83 following the success of the Phase 1 development, Junction 502 which was completed in March 2017 and consists of 40 luxury apartments.
"Nexus 83 offers an exclusive opportunity for the discerning investor to buy into the 36 upmarket one bedroom, one bathroom furnished apartments which are accessibly priced from R1.161-million to R1.462-million with affordable daily rates priced at around R1 000 per night, per room and negotiable for long-term stays of more than seven days. "The serviced apartments are operated by Faircity Hotel Group," says Retha Schutte, Pam Golding Properties, Pretoria regional executive.
Scheduled for occupation in February 2019, Nexus 83 is located just off Atterbury Road and across the road from Junction 502 and is conveniently situated close to the N1 highway and 50 m from the planned BRT bus station that connects Pretoria CBD to the Menlyn node.
Between 44 sqm and 54 sqm in size, all the apartments include a storeroom, an exclusive covered parking and will feature modern furnishings while 24 hour security completes the attractive lifestyle offering.
Schutte explains that unlike traditional buy-to-let property investments, purchasing an apartment at Nexus 83 provides the investor with a type of ownership totally unique in Pretoria – a hotel lifestyle encapsulated in a sectional title development along with access to major business and entertainment hubs as well as transport nodes.
Demand for serviced apartments in Menlo Park will continue to be driven by the number of business and leisure travellers visiting the Menlyn Maine precinct and the Sun International's Time Square Casino and Arena which hosts a number of international and local events and conferences. The demand from regular visitors to Pretoria for sporting and other events continue to grow and the luxury and need of the comfort of home away from home remains popular. Nexus 83 is a great investment opportunity for astute investors that would like to have the benefit of a tried and tested investment model.
"By addressing the need for flexible term accommodation through the concept of serviced apartments, owners will have the opportunity to gain access to this market by means of a relationship with Faircity Hotel Group who handle the marketing, management and operations of the property on behalf of owners," says Jan-Chris Landman, director at Hearth Developments.
Faircity manages and operates 3 and 4-star hotels and serviced apartments in Johannesburg CBD, Sandton and Pretoria in convenient and accessible locations offering comfortable accommodation at affordable rates.
Landman explains that purchasers into Nexus 83 will have the option to include their units into the existing income pool that is managed by Faircity Hotel Group, or they can opt to either occupy the units themselves or rent them out.
With this strategy, Hearth Developments have tried to address the needs of conservative investors and owners who are interested in occupying the units themselves for the benefit of locality and amenities.
"Our approach is not merely to build accommodation, but to provide investment opportunities that tick a variety of boxes for the prospective buyer. "Our choice to build one bedroom apartments is driven by historic data showing that one bedroom units deliver superior net rental returns if compared with two bedroom and larger units," he points out. "Our developments are all about meeting the needs of prospective buyers and we believe that time is one of the main drivers in the decision-making process of occupants, whether they own or rent."
Nexus 83's location is ideally situated close to nodes such as Menlyn and Menlyn Maine, The Club, Brooklyn and Lynnwood Bridge, thereby reducing travel time to and from these nodes enabling occupants to have more time for work and play. "Our mission is therefore to create accommodation that supports efficient living."
One of the key benefits of adding the units into the development's income pool is that costs associated with running the units are shared between Junction 502 and Nexus 83 thereby lowering the overall cost per unit. Another benefit of Nexus 83 and Junction 502 combination is their ability to accommodate larger groups of people at any given time.
"The income pool has seen tremendous growth with current occupancies in excess of 65% at Junction 502," points out Landman.
He says current long-term rental rates are around R9 000 per month with an anticipated 6% rental increase in 2019 which means on completion, rentals at Nexus 83 could be around R9 500 per month with flexible term rentals for units included in the serviced apartment income pool commanding daily rates of approximately R1 000 per day.
Schutte says Nexus 83 is a low-barrier investment opportunity in an established area, adding that this kind of property investment offers good returns since buyers have the option to put the units into the serviced apartment income pool, ensuring occupancy and a steady income stream.
"In addition, it is more affordable to buy through the developer as purchasers will not need to pay transfer duty, which is always an added cost when buying property. "Buyers or investors would need a R50 000 deposit to secure the purchase and they will also receive R120 000 payout in the first year," says Schutte.
Adds Schutte: "According to Lightstone data, Menlo Park is a well-established suburb with 38% of homeowners having owned their properties for over 11 years while 40% have owned for less than five years, which presumably indicates that there must be a large number of new developments in order to meet the ongoing demand for housing."
With a median sectional title property price of R1.74-million, data also shows a marked increase in sales of sectional title units in recent years due to their appeal for young families, first-time buyers and young professionals who make up 34% of buyers, with 42% being mature buyers purchasing in the area.
Buyers also receive 14 days' free stay at any of the Faircity establishments which include the Falstaff Faircity Hotel in Morningside Johannesburg, Grosvenor Gardens Faircity Apartments in Hatfield, Junction 502 Apartments in Menlo Park, Kievits Kroon Faircity Hotel in Pretoria, Mapungubwe Faircity Hotel in the Johannesburg CBD, Quatermain Faircity Hotel in Morningside in Johannesburg and Roodevalley Faircity Hotel in Pretoria.
"We continue to see an international trend in South Africa for serviced apartment accommodation as many travellers stay longer than five days and want to enjoy the lifestyle benefits of being in a hotel while also feeling like they are at home," says Yolandi Jansen van Vuuren, general manager at Faircity Hotel Group.
She points out that many business and leisure travellers travel with their families, so staying at these serviced and highly secure apartments is ideal. Clients include locals, corporates and international guests including those from the rest of Africa, with many choosing Grosvenor Gardens because of its close location to the Pretoria Urology Hospital, the only specialised hospital of its kind in Africa.
Apartments at Junction 502 are equipped with modern appliances and have flat screen LED TVs with DStv as well as complimentary Wi-Fi.  Long-term stay guests are given grocery hampers of between R250 and R350 to enable them to buy everyday supplies such as bread and milk among other items, she says.
Amenities in and around Menlo Park include shopping, dining and entertainment at shopping centres such as Menlyn Park Shopping Centre, Woodlands Boulevard, The Grove and Brooklyn Mall, among others and various local attractions such as the Hazel Food Market, Groenkloof Nature Reserve, Atterbury and Brooklyn Theatres, the Union Buildings, Pretoria National Botanical Garden, National Zoological Gardens of South Africa and the Voortrekker Monument, as well as a number of public and private schools and hospitals.
For more information, contact Pam Golding Properties Pretoria Luxury Development Team on 060 989 5115 or email developments@pamgolding.co.za