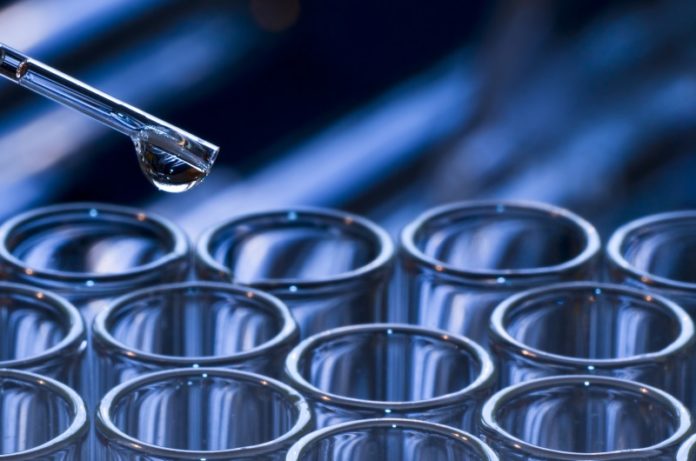 Botswana soda ash industry structure
Botswana Ash (Pty) Ltd (BotAsh), the only extractor of soda ash in Botswana, is a 50/50 partnership between the Government of Botswana and Chlor Alkali Holdings (CAH) Group, a South African based company, which is also the management partner. Botswana Ash has a capacity of 300, 000 tons of soda ash per annum and currently produces over 280, 000 tons, making the country one of the largest producers in the world.
Bulk soda ash is loaded at Sua Pan in Botswana and transported to the Natalspruit depot in South Africa. The railway logistics from Botswana to South Africa is managed by two service providers who are responsible for different legs of the route. Trains containing bulk product are offloaded into silos after arrival at the depot. Stock is then either dispatched to customers using bulk road tankers or bagged at the on-site bagging facility.
Botswana soda ash in the SADC market
The SADC offers an attractive export market for Botswana soda ash. Prices for soda ash vary according to each country. South Africa imports a significant volume compared to other regional countries at a price of over US$0.20/kg. Besides Namibia and Zambia, all other SADC countries pay on average above US$0.20/kg. Botswana is the largest soda ash exporter to the SADC region. The country exports over 35, 000 tons to other SADC countries.
Other significant exporters of Soda Ash into SADC include: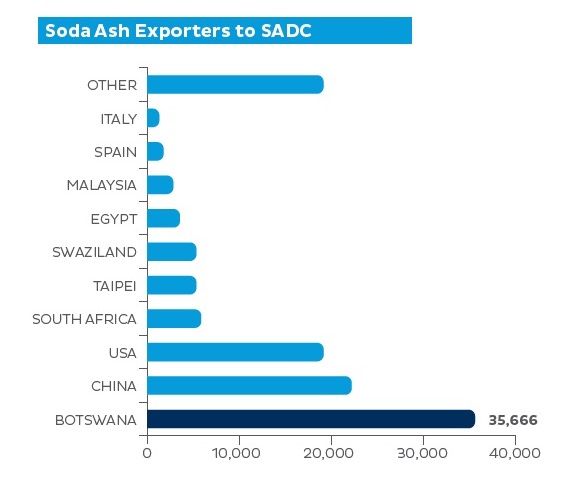 Botswana soda ash is principally used by the glass industry. 66% of soda ash produced by Botswana Ash is sold to three major glass manufacturers in South Africa: Consol Glass, Nampak Wiegand (both for container glass) and PFG (for flat glass). An additional 20% is exported to Zimglass, a glass container manufacturer for the beverage industry based in Zimbabwe. Chemical products for which Botswana soda ash is used include anti-caking agents and cleaning agents.
Investment opportunities in the soda ash sector
---
Opportunity 1: Chromium Production
For the production of pure chromium, the iron has to be separated from the chromium in a two-step roasting and leaching process. The chromite ore is heated with a mixture of calcium carbonate and sodium carbonate in the presence of air.
The chromium is oxidized to the hexavalent form used in stainless steel, other alloys and steel plating in the car industry.
---
Opportunity 2: Chemicals – Applications
A. Sodium Dichromate uses include:
Main ingredient of chromium chemicals
Water softener in laundering
Additive to swimming pools to raise the PH and neutralize effects of chlorine
Food additive (E500) acidity regulator, anti-caking agent and raising agent
Wetting agent, brick industry
Tannery and fur industry for leather and fur tanning
Chemical industry for producing non-organic pigments, catalyzers and other chrome containing elements
Textile industry for fabric pickling
Other industries in passive mixtures content, in anti-freeze liquid for engines, acetylene
cleaning and chemical reagents
B. Sodium Chromate uses include:
Corrosion inhibitor in petroleum industry
Dyeing auxiliary in textile industry
Wood preservative
Red blood cell volume diagnostic
C. Sodium Silicate uses include:
Spray-dried detergents
Soap manufacturing
Water treatment
Deflocculation of ceramic clays
Foundry – C02 and self set Process
Soil Consolidation
Tube Winding Adhesives
Welding Electrode Manufacture
---
Opportunity 3: Swimming Pool Care
Soda Ash is widely used for the water treatment in swimming pools to increase swimming pool alkalinity (increase PH). The final product requires minimal processing and it is sold to consumers in packs of 500 gr – 4 kg.
There is potentially an opportunity for an investor to proceed with the following:
Set up operations nearby Sowa Town Production Plant to pack soda ash in consumer ready pack sizes in order to satisfy the domestic and other markets north and west of the borders
Set up operations nearby Botash's South Africa depot to pack soda ash in consumer-ready pack sizes in order to satisfy the South African market.
The operations could be set up in parallel with salt packing facilities to ensure maximum synergies. There are estimated 170 000 pools in South Africa (3 per 1000 inhabitants) corresponding to 100 000 pools in rest of Southern Africa. Assuming that:
Swimming pools open 6 months per annum
1 kg of soda ash is required per swimming per month
Price of consumer pack is US$3.00 per kg
---
Opportunity 4: Potassium Chloride
Potassium Chloride is a naturally occurring compound made up of potassium and chlorine, and its uses include:
Agriculture – fertilisers, animal feeds
Food processing – salt substitute
Water softener – Sodium chloride substitute
"Three drug cocktail" – one of the three active ingredients for lethal injections used in the USA
Food supplement – against a condition called "Hypokalaemia"
Industry
Radiation monitoring equipment
Common batteries
To melt ice
Potassium Chloride – Applications
1. Agriculture:
In Agriculture, Potassium fertilizers are commonly used to overcome plant deficiencies. Potassium chloride (KCl), the most commonly used source, is also frequently referred to as muriate of potash or MOP. Potassium chloride is the most widely used K fertilizer.
2. Animal feeds:
Pets and livestock need to be fed potassium to avoid reaching low potassium levels, especially during heavy training, as it is essential to the functioning of many physiological systems, especially to neuromuscular function that is lost in sweat. It also contributes in improving your pet's appetite under stressful situations and aids in digestion of nutrients
for maximum feed efficiency.
3. Medicine:
Potassium is a mineral that is found in many foods and is needed for several functions of your body, especially the beating of your heart. Potassium chloride is used to prevent or to treat low blood levels of potassium (hypokalemia).
---
Opportunity 6: Paper Mills and Pulp
Soda helps increase the pH in the pulping process of fibres. The higher pH of the paper-fibres solution results to fibres smoothen and swell facilitating the grinding process of the fibres. Additional potential uses of soda ash include Flue Gas Desulfurization (FGD) is
a technology used to remove sulphur dioxide (SO2) from the exhaust flue gases of fossil fuel power plants.
For example, in a typical coal-fired power station, FGD will remove 95-99 percent of the SO² in the flue gases. Similarly, large amounts of CO² are released into the atmosphere through power plants and industrial production processes (e.g. steel and cement production). Recent research conducted by Harvard University and the University of Illinois have proved that micro capsules made of soda ash can absorb carbon dioxide. This is future opportunity for implementing technology across Southern Africa.
---
View or download the detailed Soda Ash value proposition here 
To discuss opportunities in the soda ash industry, please contact the BITC (Botswana Investment and Trade Centre).

DISCLAIMER:
These opportunities and estimates provided on this brief are calculated based on current available knowledge. Further investigation is recommended to evaluate the size of the opportunities in Soda Ash more accurately.