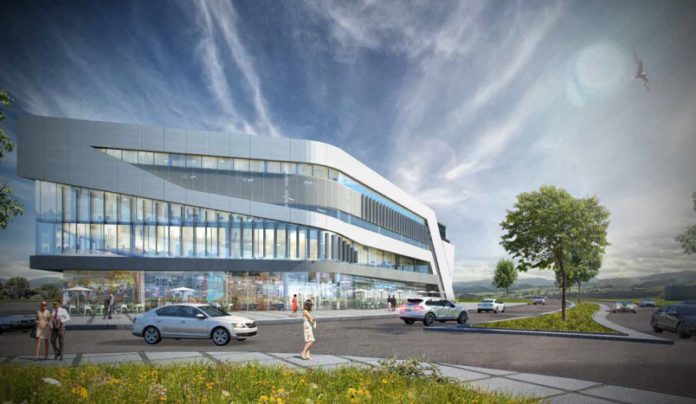 Rainbow Junction
Sector: Mixed-use development
Location: 6 km north of the Pretoria CBD
Project description
The vision of Rainbow Junction encapsulates the delivery of a vibrant new economic node at a premier location of 140 ha at the entrance to the capital city, to reflect the dynamic lifestyle of the new South Africa, with a mixed-use property development.This unique address is serviced by road, rail and air.
The approved mixed basket of integrated land uses comprise of office and corporate parks, 1 200 high-density residential units, a spread of extensive retail developments, and including a high-street shopping precinct and a regional shopping centre, hotels with conference facilities, clean light industry aligned with the city's commitment to environmentally sustainable development, community facilities such as a private hospital and other bespoke commercial opportunities.
This new district, focused on business, is Africa's new business gateway and is located within the heart of the country's capital city. Environmental Record of Decision (ROD) has been issued for most of the phases in the development. The master plan of the area, adopted in line with the City of Tshwane 2012 Regional Spatial Development Framework, and approved condition of establishment for most of the phases of the development have been secured.
Project rationale
The project has been identified as a priority development area focusing on:
developing the northern areas of the city where a large number of impoverished communities reside; and
the need to compact the city and provide housing and employment opportunities closer to the city centre.
A number of opportunities have also been identified, including industrial and logistics developments that are enabled by road and air accessibility, residential infill and related commercial opportunities.
The project falls within the 25 km radius from the Pretoria CBD as advocated by the Metropolitan Spatial Development Framework. The rationale is to encourage high-density development in and around the nodes to take advantage of existing services, infrastructure and job opportunities. The development will further transform the spatial structure of the city through reduced travelling time and commuting, and by linking the affluent areas
with the low-income areas located north of the CBD.
Project value
Total capital investment of US$1.1-billion
Economic impact
During construction
GDP growth: 0,4% pa
Wage flows: R210.6-million pa
Over the long term
GDP growth: 0,03% pa
Wage flows: R22.16-million pa
Job creation
During construction: 17 100 jobs
Sustainable jobs: 27 300
Funding requirements
The project requires partnership between the government and the private sector in providing the required bulk infrastructure to unlock the development.
Contact / enquire
Interested private sector companies with the required capabilities are encouraged to contact TEDA (Tshwane Econommic Development Agency).