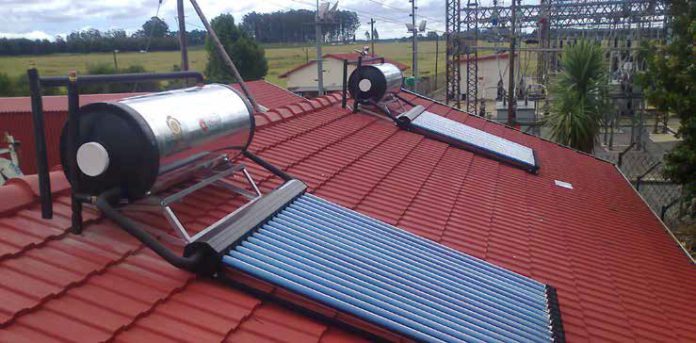 Solar Geyser Rollout
Sector: Municipal infrastructure/Energy
Project location: Citywide
Project description
The City of Tshwane aims to decommission all conventional electric geysers and replace them with solar water heaters. This will require various technological interventions and skills. Both low-pressure and high-pressure solar water heaters are currently installed, but the use of low-pressure systems will ultimately be phased out.
The citywide use of solar geysers will have cost benefits for consumers and will significantly reduce the pressure on the electricity grid. The city will require project managers, plumbers and trained labour to achieve the milestones to the benefit of the communities of Tshwane.
At least 18 986 low-pressure (100ℓ) solar water heaters have been installed over the past four years. All the systems were installed independent of electricity support (off the grid). In an average household with a 150ℓ geyser or larger, studies have shown that the electricity savings can be between 30 percent and 40 percent of the household's electricity consumption.
Project rationale
Solar power is one of the most effective renewable energy sources available. By implementing this source for water heating, the City of Tshwane opts for maximum power saving. Solar heaters offer significant cost savings to consumers and alleviate the pressure on the electricity grid.
Project value
Approximately 118 000 RDP (low-cost) houses still require installations. This amounts to ±US$64.9-million.
Approximately 440 000 middle- and high-income houses still require installations. This amounts to ±US$551.7-million.
Economic impact
During construction
GGP growth: 0,41% pa
Wage flows: R202.4-million pa
Over the long term
GGP growth: 0,05% pa
Wage flows: R25.3-million pa
Funding requirements
JV development/partnership opportunities
Project specific equity investments
Green/Eco-power and infrastructure partnerships
JV partnership requirements to be negotiated.
Contact / enquire
Interested private sector companies with the required capabilities are encouraged to contact TEDA (Tshwane Economic Development Agency) to start a conversation.