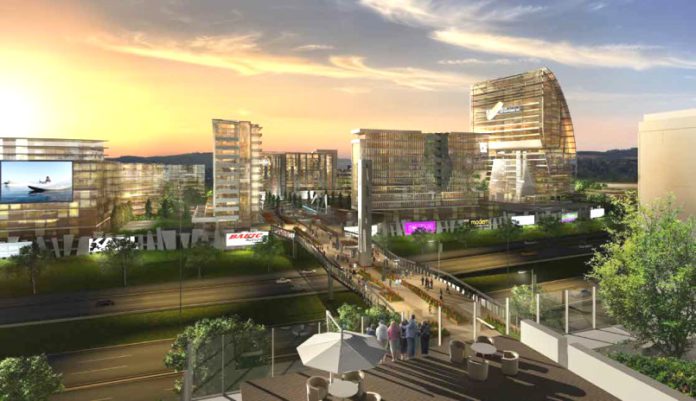 Sector: Mixed-use Development
Location: Pretoria East, bounding Silverlakes and the N4 Freeway 20 km east of the CBD
Project description
The Hazeldean nodal development is envisioned as a mixed-use, self-sufficient, live, learn, grow, work and play eco-friendly suburban precinct. The development comprises an area of 900 ha and started in 2006.
It is a full-circle-living concept with all amenities on its doorstep, eliminating the need to spend hours commuting each day. The development's vision for the Hazeldean node is to create a home for young and old in an eco-friendly, park-like environment.
Opportunities within the development include:
Residential opportunities: 11 000 dwellings (both the old and new phases)
Developable floor Area: 1.7-million m²
Environmental Record of Decision (ROD) issued for the entire development
Approved condition of establishment for most of the phases of the development
Project rationale
The project falls within the 25 km radius from the Pretoria CBD as advocated by the Metropolitan Spatial Development Framework. The rationale is to encourage high-density development in and around the nodes to take advantage of the existing services,
infrastructure and job opportunities. In doing so, the city seeks to:
drive spatial transformation through densification and compact development;
address many of the ills currently caused by urban sprawl;
achieve balanced sustainable growth to optimise the potential and infrastructure capacity;
revitalise and develop new economic nodes that support transit-oriented development and public transport systems;
strategically invest in infrastructure targeting various nodes, corridors, activity spines, and strategic land parcels that support higher intensity of mixed-use development;
achieve balanced sustainable urban growth by implementing a certain density typology based on the characteristics of the locality;
conserve and protect natural resources through the intentional ordering of urban development within the boundaries of specific delineations; and
give equal access to Tshwane's social and economic infrastructure.
Project value
Total investment of land and top structure development estimated at US$3-billion
Economic impact
During construction
GDP growth: 1,98% pa
Wage flows: R984,75-million pa
Over the long term
GDP growth: 0,25% pa
Wage flows: R189,93-million pa
Job creation
An estimated 239 700 jobs are expected during the construction phase. The number of jobs during the long term sustainability phase is estimated at 177 520.
Funding requirements
Public and private investors are sought for capital and operational investment for residential, commercial, industrial, education and property development.
JV partnership requirements: Co-ownership structures.
Contact / enquire
To start a conversation, interested investors in the above mentioned fields are encouraged to contact TEDA (Tshwane Economic Development Agency).