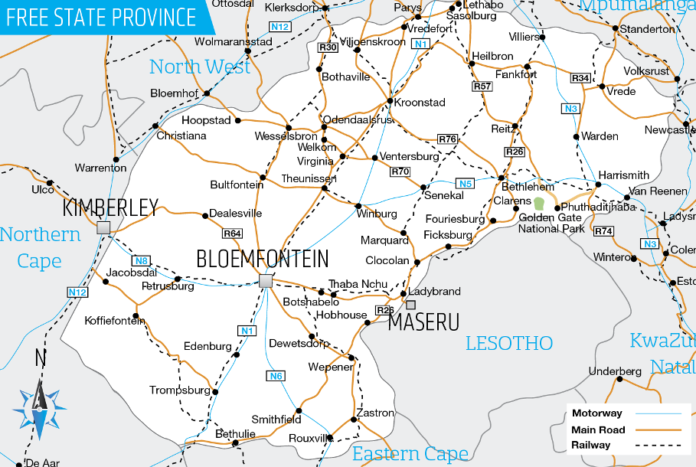 Free State trade opportunities
The Free State province offers a wide range of trading opportunities. The province's main exports are:
Mineral products
Plastics and articles thereof
Chemical products
Vehicle and transport equipment
Agricultural equipment
Semi-precious stones, metals, imitation jewellery
Base metals and articles thereof
Textile and textile articles
Vegetable and fruit products
Wood and articles of wood
Raw hides and skins, leather and articles thereof
Medical or surgical instruments and apparatus
Live animals
Additional breakdown of products:
Minerals (gold, coal, diamonds, clay, limestone, salt, gypsum, granite, sand stone aggregates)
Agriculture (maize, wheat, sorghum, potatoes, sunflower, red meat, vegetables, dry beans, fruit, peanuts, wool, poultry, dairy, cherries)
Floriculture (cut flowers)
Chemicals (fuels, waxes, synthetic fuel, liquid carbons)
Agricultural machinery and equipment
Vehicles (trailers)
Arts and crafts
Reasons to invest in the Free State
Situated in the heart of South Africa, the Free State is the country's third-largest province and borders Lesotho as well as six of the eight other provinces, including the country's economic centre, Gauteng.
The Free State is an ideal trading partner both within South Africa, and with Africa and other international markets. The province has excellent infrastructure and transport links, and provides easy access to the main ports of Durban, East London and Port Elizabeth.
Factors that favour investment in the Free State
Factors positioning the province as a favourable business and investment destination:
Centrally located with easy access to markets within South Africa and Africa
Availability of a large and affordable labour pool
Excellent infrastructure (roads,rail, airports, offices, education, banking and medical facilities)
Competitive land and building costs
Low factory rentals
Abundance of natural resources
Recreational and lifestyle facilities
Most developed telecommunications network in Africa
Open to business, trade and foreign investment
Availability of required skills pool
Attractive investment regime
More information
To request more information or enquire about trade and investment opportunities in the region, please contact the Free State Development Corporation (FDC)

Source: Free State Business 2017