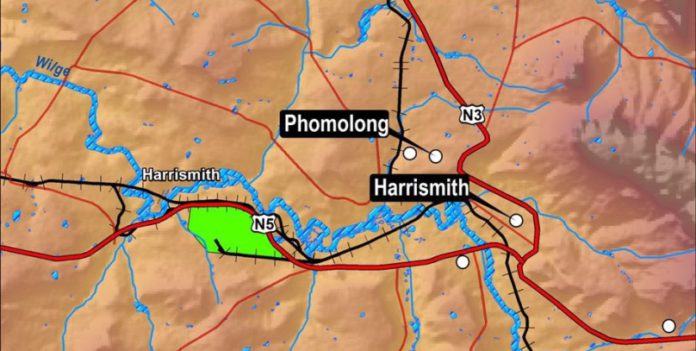 Maluti-A-Phofung SEZ
The Maluti-A-Phofung Special Economic Zone (SEZ) has been established in terms of the Special Economic Zones Act, Act No. 16 of 2014. The programme is intended to deepen industrial development and improve manufacturing competitiveness in the Maluti-A-Phofung Municipality. MAP-SEZ offers in total up to 1 000 hectares of land for industrial development.
Located in Harrismith and Tshiame in the Eastern Free State, MAP SEZ is strategically located on the conversion point of the N3 and N5 national roads, halfway between Johannesburg and Durban (283 km from Johannesburg and 297 km from Durban – see location map below). The Port of Durban is the busiest in the southern hemisphere, which means that the N3 carries the majority of the traffic to different locations in South Africa and the neighbouring countries, such as Lesotho and Swaziland.
The Maluti-A-Phofung SEZ constitutes the Free State leg of the massive Durban-Free State-Gauteng logistics and industrial corridor that is intended to strengthen the logistics and transport corridor between South Africa's main industrial hubs to:
Improve access to Durban's export/import facilities.
Integrate Free State Industrial Strategy activities into the corridor.
Build a new port in Durban.
Expand an aerotropolis around OR Tambo International Airport.
Project Pipeline
There are already 18 manufacturing companies (ranging from pharmaceutical to automobile companies) that have signed letters of intent to locate in the MAP SEZ. Some of the sectors targeted for establishment within the MAP SEZ are as follows:
Pharmaceuticals
Medical devices
Logistics and distribution
Agro-processing
Food processing
Trade facilitation
Rail-based container terminal (Transnet Freight Rail)
Automotive cross docking facilities
Logistics and supply chain management
Information & Communi­cation Technology
Logistics
Benefits
Benefits that will be derived from locating within MAP SEZ includes:
15% Corporate Tax, national is 28%
Building Allowance
Employment Incentive
Customs Controlled Area
12i Tax Allowance
Milestones
MAP SEZ company fully operational
Maluti-A-Phofung SEZ operator permit granted by Minister of Trade & Industry after cabinet approval
Perimeter fencing has been completed
Bulk infrastructure roll-out is in process
Marketing and promotion to build a robust IDZ project pipeline is in process
Contact
To discuss the opportunity or for the most current update on project progress, outstanding actions and investment requirements, please contact the FDC (Free State Development Corporation).