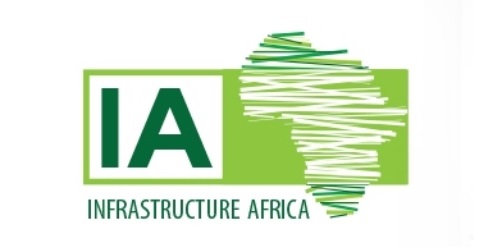 When: 21 – 22 August 2017
Where: Johannesburg, South Africa
The Giant Awakens: Africa, Infrastructure & You
The African giant is stirring…
You can hear it in the roar of the roads connecting cities; in the rumble of trains linking businesses across our continent.  It's there in the hum of power stations lighting up countries, and in the technology, which makes tomorrow happen today. And yes, it is in the sound of a drop of water bringing hope and health to a remote village. This is the sound of infrastructure. It is the ring of prosperity, and the promise of opportunity.
Welcome to the summit where infrastructure connects people, places and opportunities.
Visit the Infrastructure Africa website

Conference overview
Infrastructure: The key to Africa's faster growth
African economies have grown at a solid 4 percent annual average in recent years. The fastest growth has been in resource-rich countries, which have benefited from rising commodity prices. In almost all cases, however, that performance still falls short of the 7 percent growth needed to achieve substantial poverty reduction and attain the Millennium Development Goals. Although infrastructure has contributed to Africa's recent economic turnaround, it will need to do even more to reach the continent's development targets.
The story of Africa's development is improving. Six of the world's fastest growing economies are in Africa! Democratic governance has been strengthened over the past five decades, enabling a platform for stable growth and prosperity in most parts of the continent.
The 6th annual Infrastructure Africa Business Forum will present stakeholders with an opportunity to unpack the enormous growth potential in addressing Africa's infrastructure needs. Africa, with a population exceeding 1 billion people is well placed as an emerging market, keen for investment and growth.
However, to build the infrastructure the continent needs to support growth and meet development goals; Africa will have to spend about $93 billion a year for a decade. Two-thirds of that sum would be for investments; the remaining third for maintenance. Africa already spends $45 billion a year on infrastructure, two-thirds of which is domestically financed from taxes and user charges. Most financing for capital investment is obtained from external sources according to the African Development Bank Group.
The 2 day Infrastructure Africa Business Forum will bring together business to explore new trading opportunities, establish new business networks, develop and form partnerships and plan a way forward to address some of the continent's requirements.
Key sectors to be featured at the 2017 event include:
WATER | ENERGY | HEALTH | TRANSPORT | FINANCE
These two days may change the way you do business.
Find out more about the conference or register to attend the conference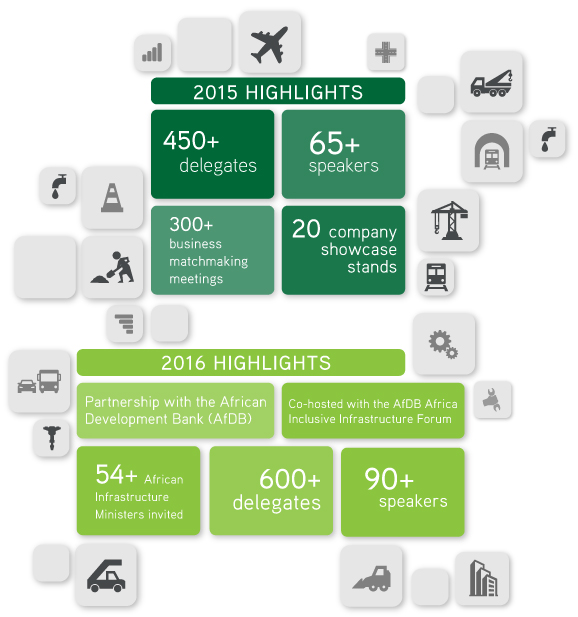 Exhibit
Showcase your company and products by exhibiting at Infrastructure Africa 2017. Exhibitor enquiry form.
Sponsor
Why sponsor?
Participating at the Infrastructure Africa Business Forum is an ideal way to position your company as a market leader at this premier event.
By sponsoring, you will showcase your brand optimally and generate great brand awareness. The Infrastructure Africa Business Forum provides a major networking platform for decision makers and professionals across all the Infrastructure sectors.
Top reasons to sponsor:
Meet qualified buyers in a highly targeted environment
Generate valuable sales leads
Strengthen relationships with existing and loyal customers
Test or launch new products
Meet important retailers, service providers and vendors
Keep up-to-date with your competitors' developments
Showcase your full range of products